Fifth Day, first post
Perfectionism or procrastination?
Welcome to Fifth Day.
Thanks for being a hella early adopter.
You're so early, you've signed up before this idea is fully formed. But perhaps you can help with that.
Before I tell you what I think Fifth Day might be about, allow me to explain why I'm doing it.
In large part, I'm trying to recapture a feeling I had about 11 years ago.
When I started the media and marketing website Mumbrella in 2008, I was figuring out the digital publishing side as I went along.
WordPress was relatively young, although I'd used it to blog before. By building the site, figuring out how to register a domain and knocking together a logo, it took me that little bit closer to understanding the mechanics.
Soon, we were figuring out how to sign up for one of the new, cheap email services that were springing up back then.
And Twitter was exploding. I threw myself in as an excited participant. It's where we found our audience.
I was never more hands-on. For a very short time, I felt like I was right on the cutting edge of what was working in digital publishing. I was learning every day.
But as Mumbrella grew over the last decade, I was pulled in other directions. Not just writing, but managing people, curating events and helping run the business. I learned lots of other stuff, but not so much about the hands-on element of publishing.
As we got bigger, if there was something fiddly, there was always somebody else to ask, who already knew how to do it.
I had a faint sense of letting the tools slip from my grasp. I might have been the voice on our podcast, for instance, but somebody else was doing the editing.
We'd move to another email platform, and it would occur to me that six months on, I hadn't even been into the back end to look at the analytics.
Yet whenever I made the effort to update my skills, it made me better at the day job as an editor, because it helped me to understand what was possible.
One example: I went on a weekend course covering the basics of video editing using Final Cut.
Afterwards, I did almost no video editing in the day job. But it had given me the vocabulary I needed to have ideas.
I'm still proud of a cheesy little video we created to demonstrate how much the supermarkets like to copy mainstream brands.
Without having done the course, I wouldn't have know it was possible to use a piece of music and edit on the beat.
After we published the video, it was even lifted by Today Tonight. Or A Current Affair, I forget which.
So Fifth Day is where I have both the opportunity and the motivation to update those skills.
The opportunity comes because at Mumbrella, like many companies affected by the Covid downturn, we're working four days a week. Jobs have been saved as a result. That creates an opportunity - if I take it - to do something useful with that fifth working day of the week.
It ties in neatly with a conversation I had with a well known chief marketing officer a few years ago. To stay on top of the job, and the rapidly changing marketing technology space, he told me that he dedicates one day a week just to keeping track of what's going on outside his immediate duties.
Call it continuing professional development, if you like.
Which brings me to Fifth Day.
I'm the sort of person who learns by doing.
In recent months, I've picked up the increasing buzz around Substack - which positions itself as a simple tool for journalists to start an email newsletter list. It may come to play an important part in the subscription ecosystem.
If I'd been starting Mumbrella now, it's the tool I might have used.
So there's an opportunity to learn by doing.
Just to get to this point, without having even published my first newsletter (if you can call it that), I'm halfway there.
It's a new piece of knowledge.
Similarly, in bodging together the image that sits at the top of this email, I tried something new. I signed up to Canva, the Australian-created graphic design unicorn. I've been meaning to for years. Creating this project gave me a reason to do so. I know that red, digitised smear isn't going to win any design awards, but at least I made it myself.
And it's one step up from the way I knocked up the original Mumbrella logo in Word, back in 2008.
Starting is always the hardest part.
As well as understanding the possibilities of Substack, my plan is to create an accompanying podcast - not because the world needs another middle aged white man's podcast, but because it will give me the reason to start learning how to audio edit.
It's one thing to present a weekly podcast, as I have done with Mumbrella, off and on, for more than a decade. It's another to edit at first hand.
And there will be a heap of hidden subtleties of the emerging podcasting ecosystem that I'm ashamed to say I only have passing awareness of. For instance, Whooshkaa vs PodcastOn? Are they an either-or? I haven't yet figured it out, but I will.
What behind the scenes levers need to be pulled to promote a podcast? I'll find out, or (just as likely) fail trying.
And that's one of the things that excites me about this project. The stakes are low, and there aren't really and consequences of failure.
The learning process has already put me ahead.
And. because this is not a commercial project, I can proceed at my own pace.
Just because this is called Fifth Day, please don't assume you'll hear from me weekly. Maybe you will, maybe you won't. I'll be working on the project on my fifth working day every week (and a bit of the weekend too, I suspect), but sometimes it will take longer for the work to come to fruition than on a neat weekly basis.
One of my failings as an editor, and particularly when I was a news editor, was perfectionism. Not a word was published in the magazine, or website, that I hadn't personally copy edited. It meant high standards and terrible bottlenecks. There was always a stack of proofs on my desk, or unpublished stories in my digital queue, waiting for me to get to them.
This is a passion project. So if I want to go slowly, and only publish when I'm happy, then I'm free to do that.
And when it occurred to me last night that this was okay, it was an immediate relief. I haven't even launched, and I was already feeling stressed by it.
Let me explain.
In order to be meaningful, even though in this case the medium is as important to me as the message, Fifth Day needs to be about something. I don't want it to compete with what I do in the day job at Mumbrella, which means staying away from the topical. But I'd also like it to be relevant to the world I know.
So I've chosen to explore the ideas behind the marketing and media industry.
And to begin with, that will be a reassessment of some famous books. (In time I may even learn how affiliate links work… but that can wait.)
I decided to start with 1984's Ogilvy On Advertising. David Ogilvy may have been dead for more than two decades, but I've still been more influenced by it more than any other book about adland.
And then the perfectionism kicked in.
Re-reading it, and adorning it with a forest of sticky notes to mark the good bits, the thought occurred. Some of the influential parts had actually come from 1963's Confessions of an Advertising Man. So I re-read that one too, and went through another crop of sticky notes.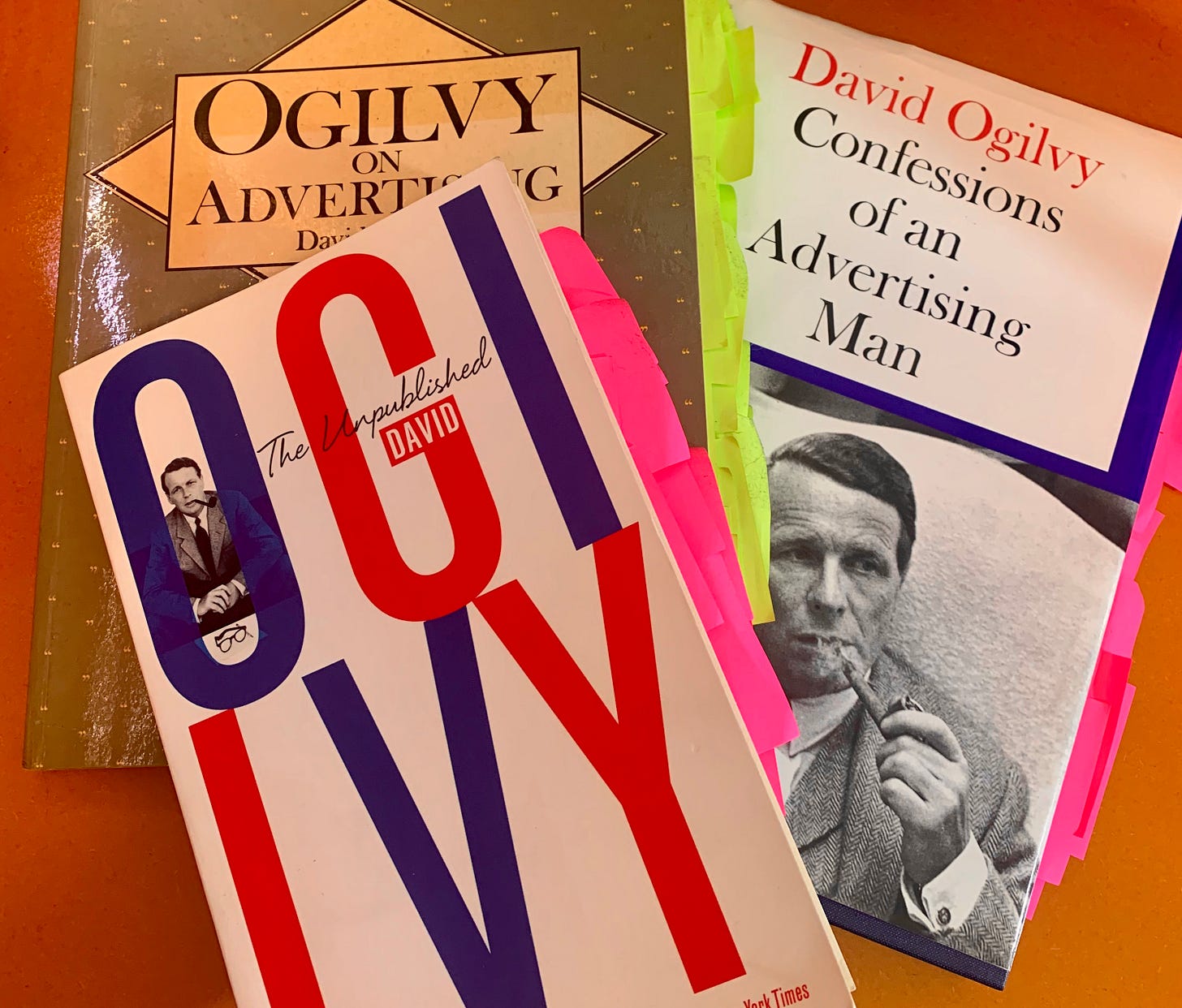 And then I realised that I'd never actually read 1988's The Unpublished David Ogilvy, despite it sitting on my bookshelf.
You may now be beginning to get a picture of the perfectionism (or is it procrastination?) that's going to both help and hinder this project. But that's okay.
And now I've explained myself, it strikes me that this is nearly enough for newsletter number one.
Mr Ogilvy will have to wait until next time.
So for now, thank you for coming on the journey.
And I won't invite you to email me just yet.
I've bought the fifthday.biz domain.
Next on my list of things to learn is how to start a new G Suite account and link it to that domain. Another lesson.
For now, I'll turn on comments below this post on the Substack site, assuming I learn how to do so.
And I do have big ambitions for your emails. I've been a long term fan of The Lefsetz Letter, which features Bob Lefsetz' analysis of the music industry. His curated reader responses are a valuable part of it. I hope your contributions will be part of the flavour of Fifth Day.
And in the meantime, there are - unsurprisingly - hardly any subscribers yet. You can also help me find an audience. See that big "share" button below? Why not tell a friend or colleague?
Toodlepip…
Tim Burrowes