BOTW: Performative.
It's been a week where brands have been at their most performative
Welcome to Best of the Week, mostly written on Friday at beautiful Sisters Beach, Tasmania.
Today's writing soundtrack: Pink Floyd: Dark Side of the Moon
Happy National Lacemaking Day
Along with the warm inner glow of supporting independent journalism, Unmade's paying members receive our emails before everybody else, and get access to all our paywalled content too. Subscribe today
---
As regular readers of Unmade's Saturday BOTW newsletter know, I like to kick off each edition with a reference to an arbitrary day of celebration. It feels like a gentle way of poking fun at the marketing tactic of creating a day for everything, no matter how absurd. I make my choice using a hokey website called Holidays and Observances which looks like it hasn't been redesigned in the last decade. That's part of its charm.
There are many holidays to choose from. Some are serious, and I leave those alone, unless I genuinely want to talk about the topic, but most are marketing confections of some form.
International Creepy Boston Dynamics Robotic Horse Day would have been the choice today, but felt like an overly flippant choice for a solemn end to the week.
In Australia we want to bed on Thursday night knowing that Queen Elizabeth's passing was imminent, and woke up on Friday to every presenter head to toe in black and every newspaper in the western world printing extra copies.
Twenty years ago, the UK's tabloid press went into meltdown when the BBC's presenter Peter Sissons anchored coverage of the death of the Queen Mother while wearing a burgundy tie. The conniptions now form part of global media's tribal memory.
There were to be no such mistakes in the Australian media yesterday morning. Every network was on air early, with every presenter head to toe in black.
Brands raced to the global bandwagon. The Twitter account @Grievewatch swung into action, sharing the early efforts of brands big and small.
Even Pizza Express (the restaurant chain where Prince Andrew famously went the night he definitely wasn't doing anything sordid) got in on the act.
It became hard to tell the genuine brand messages from the hoaxes
Meanwhile, social media became a maelstrom. For every mild mannered observation that one could be both a republican and also moved by the death of somebody who had given a lifetime of service, there was another take on the evils of colonisation. And sexism. And the Irish problem. And ageism.
It was a Twitter vortex as bad as the Victorian Covid lockdowns, but more intense.
For brands navigating big social issues, participating can look like an attempt to drive engagement and kudos by jumping onto the grief bandwagon - because that's often exactly what it is. But there's also a risk that by doing nothing, brands get policed by the social media zealots - why aren't they showing appropriate respect by turning their profile image black?
It's not simply an issue of the digital decades. I was in Dubai in 2006 at the time of the death of Sheikh Maktoum bin Rashid al Maktoum during a trip to the Gold Coast (yes, really). When the newspapers returned from the media shutdown, they were doorstoppers - page after page of tribute ads. The Gulf News would not have had a more profitable week. For brands, the risk of failing to appropriately pay tribute was far higher than the cost of a full page.
Perhaps it was the same this week. For some brands, the tributes may amount more to risk management than bandwagon jumping. Either way, the messages are more calculated than heartfelt.
It came at the end of a week which had already been performative for brands and agencies thanks to RUOK Day on Thursday.
The initiative was founded by Gavin Larkin back in 2009. I wouldn't be so presumptuous to call Gavin a friend, but I did get to know him a little before he died.
I met him as boss of STW Group's The Brand Shop and interviewed him about the launch of RUOK Day, which was inspired by the suicide of his own father. During what proved to be his final months, he got in the habit of occasionally calling me for a chat while he was bored in hospital. The event is one of his legacies, and I hate the fact that RUOK Day seems to have lost its way.
When it launched, RUOK Day felt like an unambiguously positive force. It attempted to not only encourage conversations with friends or colleagues who might be struggling, but offer guidance on how to responsibly have that conversation.
Fast forward a decade, and RUOK Day feels quite different. First and foremost, it felt highly performative this year.
On Thursday morning I spent a couple of hours looking at the latest tweets with the #RUOK hashtag as they were posted.
The most common type of post came from brands. The type of topical post they'd put up on Valentine's Day, Easter, or, yes, the death of a monarch. Yellow cupcakes and balloons were a big theme.
For
#RUOKday
yesterday, our offices around Australia got together to start a conversation about how we can best support positive mental health and wellbeing 💛 For further resources, please visit
ecs.page.link/cf5xK
, or for professional support contact Lifeline on 13 11 14.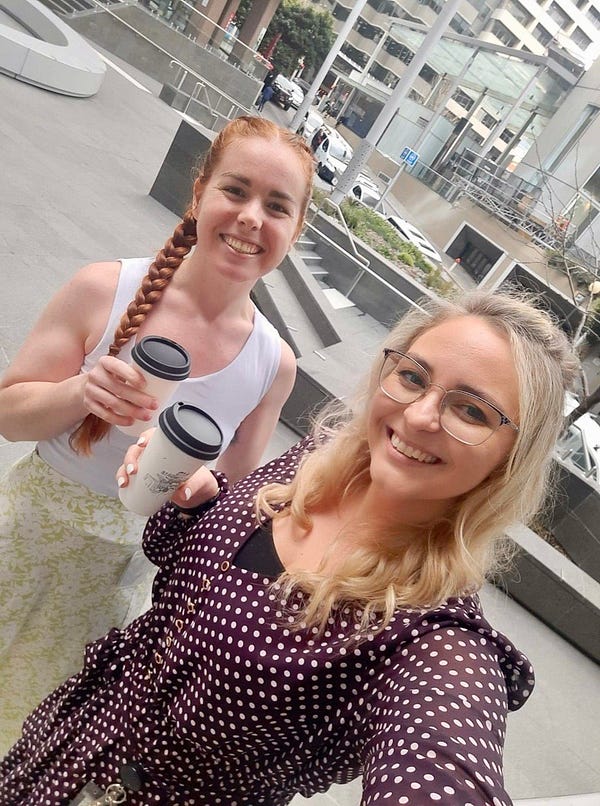 But almost as common were posts from people who feel the initiative does more harm than good, or at the very least is used by workplaces to be seen to be doing something about the stressful environments they often are.
For its critics, RUOK Day had become an embodiment of a superficial way of addressing a big problem for an often superficial industry.
The marketing world, and agencies in particular, lean into RUOK Day. I suspect there are mixed motivations. Many agency bosses recognise that they preside over stressful environments. In the case of the global holding companies, these people are the middle management. If they choose to work within the system, there's only so much they can do. So they support RUOK Day out of good intent, because it's better than nothing.
Others no doubt participate because they feel they should be seen to participate.
Yet I wonder how many organisations with their roots in marketing have created any genuine change in the movements they help start. I can't immediately think of a movement started by marketing teams which has made a significant quantifiable difference to the real world beyond "awareness".
Earth Hour, the brainchild of Leo Burnett a decade ago, now has an extensive "Criticism" section on Wikipedia labelling it "an ineffective feel good event".
Ditto White Ribbon's Australian arm which. before it got into financial difficulties, appeared to be as much about polishing the profile of male celebrities (and providing awards fodder for its agency collaborators) as it did tackling violence against women.
This week my heart sank when I got a press release from an agency about its involvement in yet another cause, this time to campaign for a new on-screen classification warning when a lack of consent is depicted within dramas. The agency was almost as prominent in the release as the not-for-profit it was working with.
I suspect that we would see little pro bono activity from agencies if there was no prospect of entering it into awards at the other end. Yes, industry awards may act as an incentive for agencies to donate their time to causes, but they also create a perverse incentive, with the activity ending up focused on award-contending work, regardless of the right strategy for the cause.
Over the next fortnight we'll seem some highly performative behaviour as brands attempt to navigate the public mood. Even 17,000 kilometres from Balmoral, strange days are ahead.
---
Unmade Index: Seven bounces at the end of its big AFL week
The Unmade Index of ASX-listed media and marketing companies finished down for the day, and for the week, on Friday.
In a relatively subdued day of trading Seven West Media was the only stock to see a jump yesterday, rising by 4.17% to a market capitalisation just below $800m.
Tuesday's blockbuster AFL deal has made almost no difference to SWM's market capitalisation. It closed the week at $795m, exactly the same level as a week before.
---
Time to let you enjoy your Saturday.
I'll be back with the Start the Week podcast on Monday, with a guest star. Abe Udy, the man behind Abe's Audio, will be co-hosting while Damian takes a day off.
If you're looking for an unsolicited weekend reading recommendation, there's a terrific edition of the AFR Weekend Today. The tick-tock on the last night of the AFL deal has some fun colour, and there's a great interview with Brian Cox, the volcanic star of Succession.
Have a great weekend.
Toodlepip…
Tim Burrowes
tim@unmade.media